Fantasy Funds
To inject some competitive excitement and help you experiment with investing strategies, we have created a real-world stock market simulation for our members. Each registered member of Stockopedia is allowed to manage one fund at a time and each fund starts on day 1 with 1,000,000 in notional "Stockopedia Pounds". Performance is then tracked and compared over time between funds based on the change in net asset value (NAV) over a specific period of time.
Navigating the Fantasy Funds
You can find the Fantasy Funds area by hovering over the Help button on the navigation bar and clicking Fantasy Funds.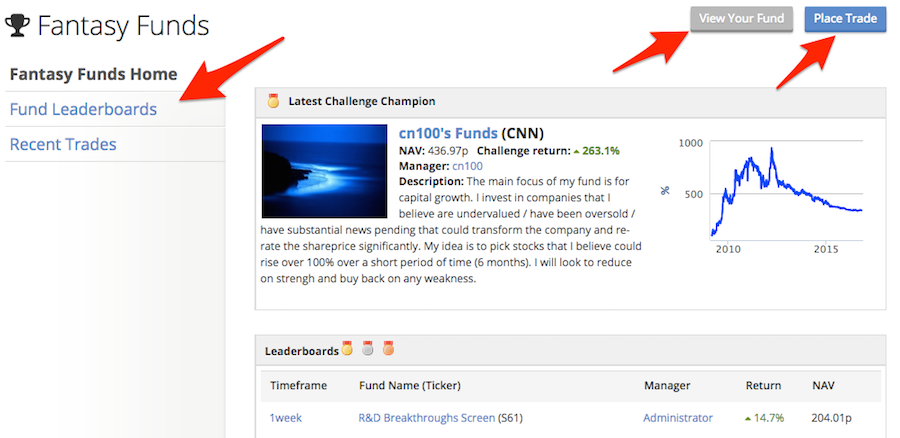 On the main Fantasy Funds homepage you'll find the latest leaderboard rankings and recent trades by participants. You can get more details on these lists via the menu on the left-hand side of the page where you can click to view Fund Leaderboards or Recent Trades.
From the homepage you can Create or View your fund and Place a Trade by using the button at the top of the page.
Your Fantasy Fund
By clicking View Your Fund, you'll be taken to your fund overview. Here you'll be able to see a detailed analysis, including:
Fund valuation
Total Gains/Losses
A performance chart of the fund versus the FTSE All-Share
A list of current holdings
Most recent trading activity
Returns from 1-week to 1-year and annualised
Compliance details
At the top of your fund overview you'll find some additional tabs that will let you view:
Trade history - a history of trading activity Order history - showing pending or outstanding orders Edit/delete - where you can make changes to your fund's name, ticker or philosophy.
Trading stocks in a Fantasy Fund
You can action trades for your Fantasy Fund by clicking Place Trade from the Fantasy Funds homepage or clicking Trade from you fund overview page.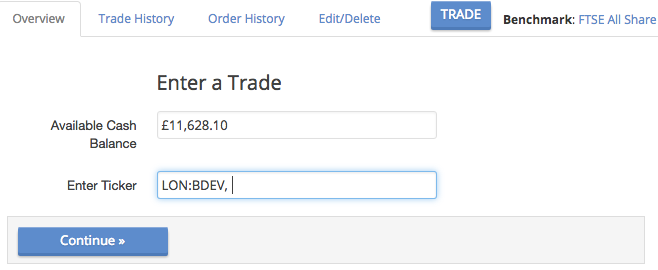 This will launch a pop-up showing your available cash balance and asking for a company ticker. Once completed, click Continue, which will take you to the Trade Order details.
Once you've completed the details of the Trade Order, click Submit Order. If everything is correct, you'll then see an Order Accepted note. To review the pending order, click the Order history tab at the top of the page.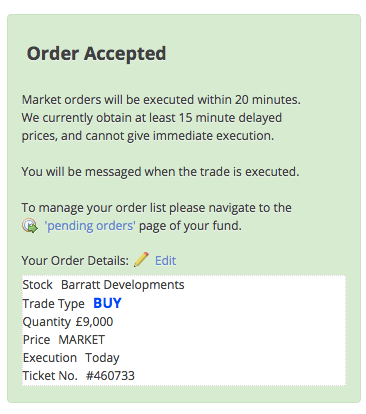 How are Fantasy Fund trades executed?
Simulated order executions for fund trades are based on the actual reported trades of LSE stocks, on a share for share basis, following a minimum 20-minute order delay. Market and limit orders are accepted, as are day and 'good til cancelled' (GTC) orders. GTC orders will remain active for 14 days, at which point the order will be closed.
How many stocks can I have in my fund?
Members may select equities for their funds from those covered on the Stockopedia site. For the ranking tables, you must have a minimum of 5 stocks and a maximum of 50 stocks in your portfolio. However, beware frictional trading costs, as each trade costs the higher of 15 basis points or £12.50).
What are the compliance rules?
For the ranking tables, we have introduced basic compliance rules to ensure that the top funds in any quarter have competed with the necessary diversification and investment criteria. In order to be in the ranking:
Funds must be at least 60% invested in equities (holding cash in a bear market doesn't say much about your stock picking ability!).
The largest single equity holding in a fund must be less than 25% of the value of the fund.
No single equity position greater than 15% of a fund size can be purchased or added to.
No fund may own more than 3% of a company's market capitalisation (this is to discourage oversized speculation in illiquid securities).
You must have a minimum of 5 stocks and a maximum of 50 stocks in your portfolio
These constraints are less constrictive than professional funds, but are more reflective of private investor tendencies.
What's the difference between Portfolios and Fantasy Funds?
The short answer is that Fantasy Funds are public, whereas Portfolios are private.