Chart Signals
The "Chart Signals" feature on Stockopedia is designed to help investors more easily spot stocks that have triggered bullish or bearish technical signals in recent days. It can be thought of as a visual stock screener for popular technical analysis indicators.
The page can be easily found using the main site navigation menu under Tools > Chart Signals.
Navigating the Signals
The page is composed of two main areas. A left navigation menu showing different types of bullish and bearish chart signals to choose from, and the main section displaying a grid of charts of stocks qualifying for the chosen signal.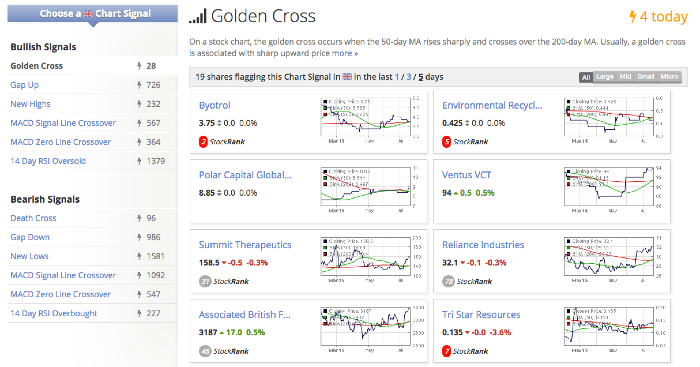 In the left column are displayed different types of popular chart signal split into 'bullish' and 'bearish' categories. Each signal can be clicked/selected to generate a list of shares that have triggered it in recent days.
Bullish Signals we currently list include: Golden Crosses, Upward Gaps, New Highs, MACD Signal and Zero line crossovers and oversold RSI.
Bearish Signals we currently list include: Death Crosses, Downward Gaps, New Lows, MACD Signal and Zero line crossovers and overbought RSI.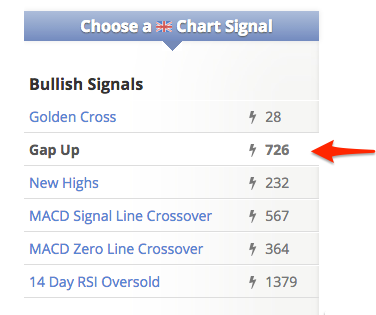 For more information on each of these technical indicators please do check the ratio glossary. If you want us to add any signals do get in touch using the Green Support Messenger.
Filtering the Signals
The default list will show the stocks that have triggered the signal in the last 24 hours. As you scan down the list the stocks shown are in reverse date order with the most recent at the top. You can extend the lookback period using the links in the navigation toolbar from one day to the last 3 or 5 days.

The default list shows stocks triggering the signal at any market cap size. But you can also filter for different sizes of company using the button bar across micro-caps, small caps, mid-caps and large caps.
Reading the Signals
On selecting a signal the main segment of the page will change to show a grid of qualifying shares in boxes that contain their names, prices and a relevant technical chart for the indicator in question. The chart shown changes depending on the technical indicator being looked at. So you will see an RSI chart if you are looking at RSIs or a MACD chart if you are looking at MACDs.

The addition of the StockRank and number of Guru Screens qualified for helps to visually filter the list for strong fundamental candidates. Hovering over any of the boxes will show a pair of helpful links to take you through to the stock's StockReport or Technical Analysis Charting page.
There really isn't much more to it than that. We suggest you have a browse around and please give us feedback and let us know how we can improve it.