What market breadth indicators do you have?
Charting / Technical AnalysisThe Stockopedia home page publishes several extremely useful market breadth statistics on an intraday basis. Breadth indicators attempt to track the general swell of the market up or down and can be useful for market timing purposes. We publish the following:
Advancers vs Decliners - how many stocks in the Stockopedia Edition have risen versus how many have fallen on the day.
New 52 week Highs and Lows - how many stocks have broken above their 1 year range and how many have broken below.
Above/Below 200 day Moving Average - how many stocks are currently trading above their 200 day average share price and how many below.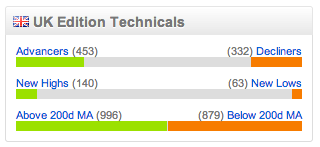 The 2 former metrics are useful for gauging the breadth of the market intra-day, whereas the latter is more useful for monitoring the general trend of the market.
Technical Analysts often look for divergences between the direction of the market averages and the general breadth of the market. For example, if the market is rising, but the breadth is consistently weak (i.e. more decliners than advancers) then the market may be being pulled higher by fewer and fewer stocks - often a sign that the market is weakening. The same is true in reverse.
These statistics are updated every 15 minutes on trading days to give an accurate representation of the market breadth on the day.
For more information on breadth statistics please see wikipedia.