Organising Your Screens
Creating stock screens with Stockopedia is quick and simple, whether you are Building a Basic Stock Screen or using Advanced Rules & Features.
Organising your screens so that you can find them quickly is also very easy. All the options you need to create, navigate and manage your screens are in the drop-down menu of the Screens tab in the Stockopedia navigation bar.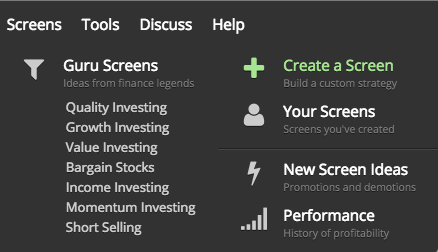 Whenever you Create a New Screen it will automatically save itself to Your Screens. This is your personal collection of screens that you have created or Duplicated from elsewhere. For this reason, it's important to give every screen a name when you are creating it, so that you can find it easily again in the future.
Saving a screen to a folder

To manage your screens more easily, we have an in-built filing system that allows you to create folders and move screens between them.
When creating or editing a screen, simply click the Folder button, which is right next to the sort order dropdown menus. This will give you the option to either save the screen in a current folder, or create a new one.
To find your folders navigate to the main Your Screens page. To move screens between folders, just click and drag the navigation icon that appears when you hover over the screen name.

Renaming a screen
You can rename screens at any time. Simply open up the screen and click Edit Rules. Just below this, you'll have the option to click Rename.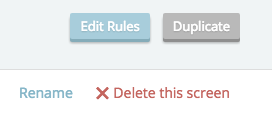 Once you have renamed your screen, re-load the screen results by clicking Get Qualifying Shares. This will reproduce you screen with its new name.
The same process can be used for Duplicating your screen. Just click Edit Rules and then click Duplicate.
Deleting a screen
Screens can be deleted in two ways. On the Your Screens page, hover over the name of the screen you want to delete and a red cross will appear. Click that and you'll be asked to confirm that you want to delete the screen.
Alternatively, you can open up the screen and click Edit Rules. Just below this, you'll have the option to click Delete.
Transferring screen results to a portfolio
The results of any Guru Screen or Custom Screen can be transferred to a new or existing portfolio at any time.
On the left hand side of the results table, each stock has a tick box next to it. By ticking the boxes next to one or a selection of stocks in the table, a button will appear at the top of the table that says Add to Folio.

By clicking Add to Folio you'll be offered a menu with the option of adding the selected stocks to an existing or completely new portfolio.