Folio Basics
We call the Portfolio & Watchlist management system at Stockopedia "Folios". We've designed the Folio system for complete flexibility and power. We think you'll love what we've put together as Folios allow you to do any of the following:
Put together a simple list of shares for watching or sharing.
Perform deep analytics on any list of shares.
Track the performance of any list of shares.
Complete transaction management & reporting for any Folio.
Here is a brief video explaining the basics of portfolios:
Portfolios & Watchlists
Most services treat Portfolios and Watchlists differently, when really much of the information and analysis you want is applicable to both. With Stockopedia, the key difference between them is that Folios include your specific transaction and position size details, whereas Watchlists do not. We treat Watchlists as equal weighted portfolios for analysis purposes, and generate a 1 year performance chart from their price histories.
All of the Folio tools on Stockopedia can be found in the Folios section of the site. You can access it by hovering over Folios in the navigation bar. This will give you the option to click into an existing Folio or to create a new one.

Maximum number of Folios
We currently allow up to 10 Folios for our Annual subscribers and up to 5 Folios for our Monthly subscribers. Each Folio can have up to 100 stocks.
Creating a Folio
You can begin building a Folio here (or from the Create Folio link under the Folio menu in the main navigation bar). You can either use it as a simple Watchlist (with no position sizes) or a Folio (by inputting transactions or position sizes). For help inputting positions, click here.
As part of the Folio setup, you should choose a base currency (GBP, USD or EUR). This sets the reporting currency for your Folio and all gains/losses will be reported in this currency. You can however enter your individual transactions in any currency.
Adding Stocks to a Folio or Watchlist
You can add stocks and other securities to your Watchlist or Folio from a variety of locations around Stockopedia:
In Folios, use the input box on any Folio page and click Add Stocks.

From StockReports, click the blue Add to Folio button, which you can find towards the top-right hand side of the page.

From any Table simply tick the box on the left-hand side of the security name, and then click the Add to Folio button at the top of the table.
Importing a Folio
If you have a portfolio with another provider, you can import it to Stockopedia using the import tool here. For guidance on this, see Importing your Folio later in the Folios section of the Guide.
Editing a Folio
You can make changes to the basic set-up of a Folio by clicking the Edit Folio button, which you can find towards the top-right of any of the Folio pages. This will take you to the main Folio set-up page.

Here you can change the name of a Folio and opt to make it your default Folio. In addition, you can also hide empty/closed positions or change your position limits, which are relevant for the Allocations tab.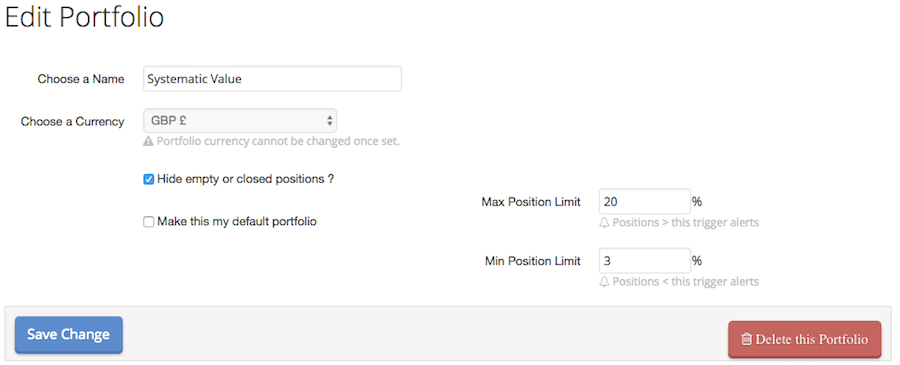 Entering Position Sizes
To enter your position sizes, click on the Transactions tab. From there, you can log all your Folio history - with transactions in whatever trade currency they were made in (Euros, Dollars, even Norwegian Kroner), including Trades Notes or Details of Commissions paid. For guidance on this, see Adding Transactions later in the Folios section of the Guide.
Editing Positions
To edit a position in a Watchlist, start from the Holdings tab and find the position you want to change. At the end of the line you'll find a 'cog' icon. Click that to reveal a menu of options, including adding or changing transaction details, deleting it, setting alerts, adding notes or adjusting for splits/ bonus issues.

Deleting Holdings
To delete a Watchlist position, you need to select the checkbox on that row, and then choose the Delete button at the top left of the table.

Deleting Transactions
To delete a transaction on the Transaction tab, you just need to click the red Bin button at the end of the row.

Moving Holdings to other folios
You can move a stock from one Folio to another by ticking the box on the far left and then selecting Add to Folio at the top left of the table. This will copy positions from one Folio to another but not the underlying transactions.

Deleting a Folio
To delete a Folio, click the Edit Folio button to go to the Folio set-up page. Here you'll see a red button giving the option to delete it. Please note that deleting a Folio will also delete its entire history.