Folio Transaction Report
Once you've been entering your transactional data for a while you may want to review the list and make adjustments. If you are viewing a Folio your transaction data can be accessed at any time by clicking the Transactions tab.

This page contains a chronological list of every transaction (purchase, sale, dividend, deposit or withdrawal) currently logged in the Folio. Each transaction line is dated, and where relevant you will see details of the number of shares involved, the price, forex rates, commissions, taxes and the resultant cashflow. You'll also see any notes that have been set on each row.
To the right of each row you'll see three icons which in turn allow you to edit the transaction (pencil icon), set an alert (bell icon) or delete the transaction (trash icon).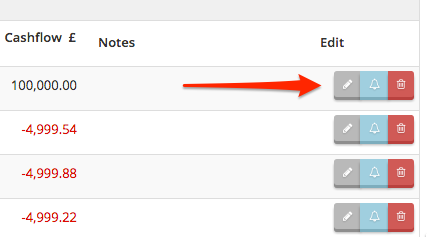 Editing Transactions
Editing existing transactions is very simple. On the main Transactions page, click the 'pencil' button to the right of the transaction row.

This will re-open the transactions pop-up box, where you'll be able to make any changes. Click Save to exit.
Portfolio Alerts
Often investors wish to set stop losses on specific trade lots. If you wish to set an alert we provide a quick entry button on each transaction row. Just click the 'bell' button at the end of of the line. This will open the Alerts box, where you'll be able to set the details of the Alert.

Deleting Transactions
To delete a transaction on the Transactions page, you just need to click the red Trash icon button at the end of the row. Don't worry, you will receive a 'confirmation' popup before we delete the transaction !
Downloading your data
At the bottom of the list of transactions you'll see the net cash balance of the portfolio. There is also a Download button. By clicking that you'll be able to download your transaction list in a format of your choice.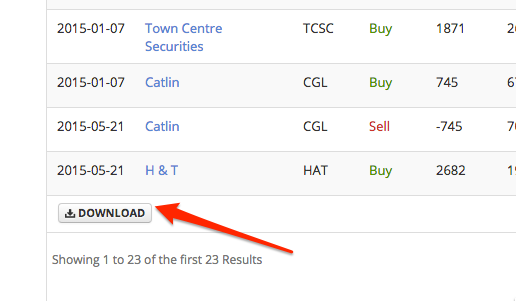 NB If you have entered a transaction and the Gain column of your overview page is showing far too high a value it might be that when adding the transaction you entered the total position cost rather than the cost per share. To resolve the problem, click to edit the folio transaction and enter the cost price per share rather than the total cost.