StockRank Portal
For investors seeking to build portfolios full of high probability stocks the "StockRanks Portal" is the perfect starting point. In this brief introduction you'll learn how to:
Discover the top stocks using the basic, crossover and composite StockRanks.
Filter the lists more deeply by sector, geography and capitalisation.
Export the rules into the screener for further filtering.
Add stocks to your Folio or the Compare page from the lists.
The StockRank portal highlights the 100 top (or bottom) ranked stocks in your Stockopedia edition most exposed to the 'Quality', 'Value' and 'Momentum' payoffs we have explained. Think of this as a very fast stock discovery tool using the StockRanks . The page is easily accessed by clicking the "Ranks" tab in the main site navigation.
Through this portal you'll have access to the top ranked stocks listed on the countries & exchanges accessible under your current subscription. If you wish to add more geographies and search further afield you can always upgrade your account at any time.
The table view
The default view is a table which lists the top 100 stocks by the QVM StockRank over a market capitalisation of £10m. You can sort the table by columns relating to some key dimensions:
Company Name
Mkt Cap £m - The size of the company.
Last Price - The latest traded price for the share.
Change - The percentage change on the day.
StockRank - from zero (worst) to 100 (best).
Sector - which of 10 sectors the company is classified in.
Filter tabs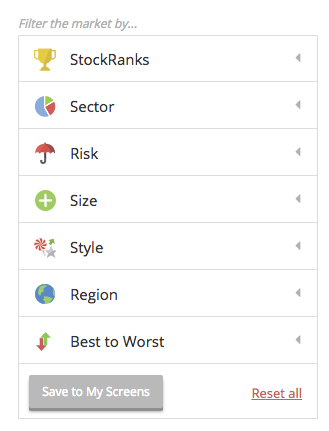 To the left of the table on the page you'll see a vertical list of tabs. Each of these tabs opens up to show further options which when clicked filter the shares in the list accordingly. The options include filters by:
Different type of StockRank
Different Sectors
Different Risk Ratings
Different Size Groups or ranges of company capitalisation
Different StockRank Styles
Different Geographic regions
Top ranking or bottom ranking
Let's look at each of these filters in turn.
1. StockRanks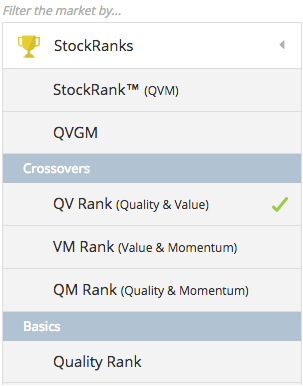 We rank every share in the market across the three most important driving factors of stock performance - Quality (Q), Value (V) and Momentum (M). These are payoffs that have driven the outperformance of stock market leaders for decades. The default table view lists the highest ranking shares in the market by our equal weighted blend of these three payoffs Q+V+M by using the overall Stockopedia StockRank.
While QVM is a very sensible and strongly performing all-rounder system to find good, cheap and improving shares there are many more ways to make money in stocks. For a fuller understanding of the different approaches to find stock market winners please do read this article titled "Towards a Taxonomy of Stock Market Winners" .
To enable the discovery of stocks according to the taxonomy we provide different combinations of the StockRanks as follows:
The Composites

QVM StockRank - quality, value and momentum
QVGM Rank - quality, value, growth & momentum

The Crossovers

QV Rank - quality and value
VM Rank - value and momentum
QM Rank - quality and momentum

The Basics

Value Rank
Quality Rank
Momentum Rank
Growth Rank
So for example if you just wanted to find the 'cheapest' stocks in the market with disregard for quality or momentum you can select the Value Rank. The impact of selecting a filter is that the 'rank' column changes to use the chosen ranking system and the highest 100 stocks by that filter become listed.
We like to say that it's best to own stocks displaying exposure to at least 2 of the important factors as it reduces the risk of owning 'traps. So do remember that the list of 'cheapest' stocks probably contains a lot of what we call "Value Traps".
2. Sector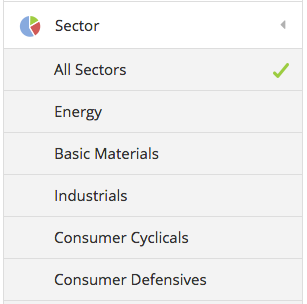 When many investors start using the Stockopedia Folio Analysis tools, they often find they are over-exposed or under-exposed to certain economic sectors. In order to reduce the risk of underperformance (or increase the likelihood of outperformance) it is sensible to diversify across both cyclical and defensive segments of the stock market. Defensive stocks outperform in downturns, cyclicals outperform in upturns, while sensitive stocks can lie somewhere in between.
The sector filter here is a great way to hunt for stocks in different areas of the market. We provide the ability to filter these lists further using the 10 major economic sectors in our classification. So if you feel you need to bulk up your exposure to cyclicals in a recovery it's simple to drill down and find high ranking stocks in that segment.
You can learn more about our multi-level sector classification here.
3. Risk Rating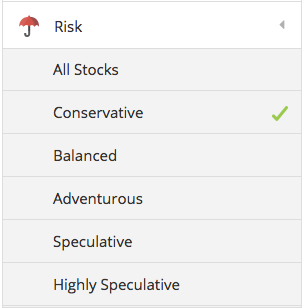 You can customise results according to your tolerance for market volatility or risk. We provide a five tiered Risk Rating System based on an assessment of every company's annualised and adjusted three year share price volatility.
It's a five tiered system that rates stocks from Conservative (for lowest risk) through Balanced, Adventurous, Speculative and Highly Speculative (for highest risk). While more volatile securities can lead to greater short term rewards, they also can lead to a higher probability of short term losses. Academic research has also proven that lower volatility shares tend to match or beat higher volatility shares on a risk-adjusted basis. If in doubt, it's often wiser to scale down risk, rather than scale up.
4. Size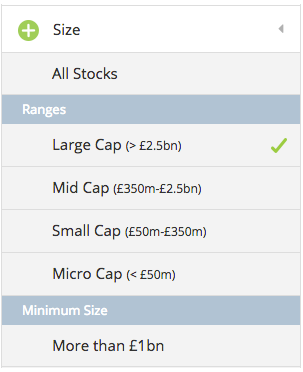 A lot of investors don't like buying tiny micro-cap stocks due to their riskiness, while others believe that '_elephants don't gallop_' and shun large caps. The Stockopedia house philosophy is more ambivalent about size, so whatever your preference we provide filters that can help you zoom in on the segments of the market appropriate to your needs.
By clicking the 'size' tab in the sidebar you get a few options to filter either by market cap range (large cap, mid cap, small cap or microcap) or using a minimum market cap cutoff.
So if you wish to zoom in and just look for small caps using the Small Cap filter it's a breeze - the list updates immediately and you'll see all the stocks will reflect your size criteria in the Market Cap column.
5. StockRank Style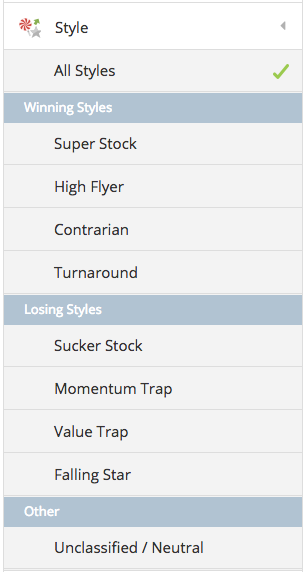 The StockRank Styles are a classification system that provide an instant fix on the qualities of each share. They assess every possible combination of the three basic Stock Ranks - the Quality Rank, Value Rank and Momentum Rank - to generate eight classifications of stock. There are 4 "Winning" styles (Super Stock, Turnaround, Contrarian and High Flyers) and 4 "Losing" styles (Sucker Stocks, Value Traps, Momentum Traps and Falling Stars). Any stock that doesn't fall under one of these archetypes is classified as Style Neutral.
By clicking any of the options in the sidebar you can quickly isolate shares of any style of interest. Winning Styles are exposed to a minimum of 2 of the three StockRank factors, while Losing Styles are exposed to a maximum of 1 of the three StockRank factors.
If you are isolating stocks of a specific style it's worth sorting by the specific StockRank best suited to that Style. For example, High Flyers have high Quality, high Momentum, so it can be useful to sort by the QM Rank rather than the overall StockRank.
6. Regions & Countries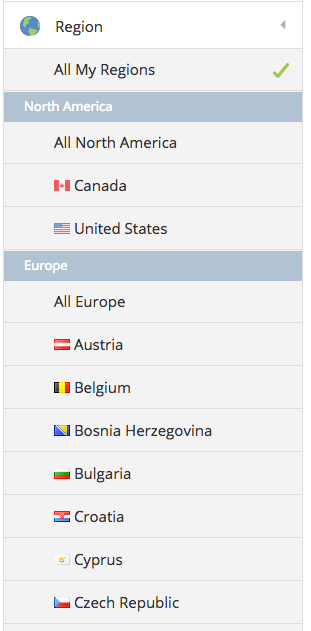 You can further filter by region or country using the Region filter option. We group countries by their global region into sets. You can filter either by clicking any country, or you can filter by clicking on the "All Region" option at the top of each set.
7. Sort direction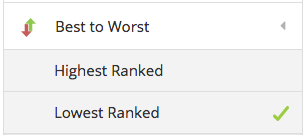 The final option is to choose the sort direction. Most investors are looking to either buy or hold shares and won't want to change this option, some investors do look to sell shares short- hoping to profit from a fall in the share price. If you fall in this latter category then you can change the sort direction to hone in on the lowest ranked shares in the market.
It's worth remembering that most brokers don't allow shorting. If you are trading CFDs, options or Spread betting you may have more ability to 'go short' but please beware the leverage !
Digging Deeper
Do remember that the more filters you apply in the left sidebar… the deeper the list goes into our stock market database… so beware that you may find some low ranking stocks creeping into your list.
Exporting to the Screener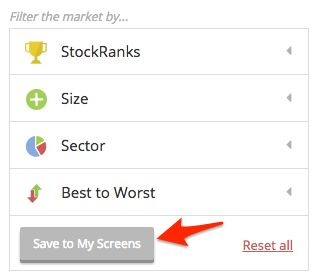 Let's imagine you are a 'dividend' investor and you wish to quickly hunt for some high yielding divided stocks. While the default filters on the StockRanks portal may not 'cut it' for you, the great news is you can export quickly any set of filters into the stock screener for further filtering.
So you could rank the market by your preferred ranking system (e.g. Q+V Rank), zoom in on small caps and then click "Export to Screener" to add a Dividend Yield cutoff of 3% or more. You've now found the highest QV Ranked small caps with 3% or more yields.
This is a very handy way to get started in stock screening.
Don't forget the checkboxes !

Before we go, it's worth remembering that all the table tools are available on the StockRanks portal page. You can add any of the stocks in the list to one of your Folios for further analysis by clicking the checkbox at the left of the page and clicking the button that appears at the top "Add to Folio". Alternatively you can click the "Compare" button to compare these stocks side by side.