Directors Dealings Data
We provide data on equity transactions by individuals and institutions classified as insiders in the United Kingdom. Based on the London Stock Exchange listing requirements as a guide, we define Insiders as all directors, substantial holders who buy or sell more than 3% of a company's share issue and fund managers who hold over 10%, who are required to report stock transaction activity and direct and indirect holdings.
These insiders' share transaction activities and holdings offer insights that can reflect their views on their companies' stocks, which may serve as a buy or sell signal in the stock or industry. You can read more about the rules here.
While we have plans to extend coverage, we are currently not publishing insider data in other regions.
We discuss the value of Director's Dealings as a signal in depth here.
How can I find the directors dealings data?
You can find directors deals from any StockReport page on Stockopedia. We include this information on a sub-tab under the Accounts dropdown from each stock page.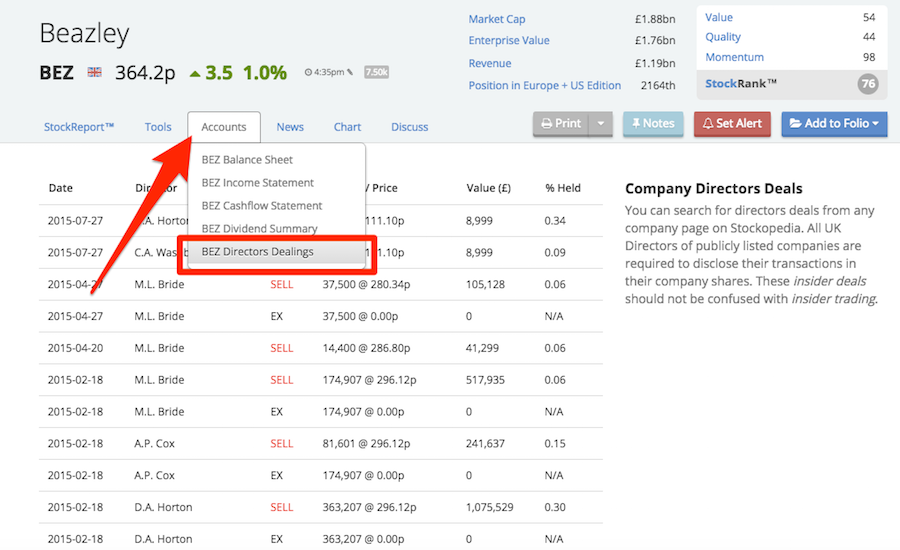 How often is Insider data updated?
Under UK Financial Conduct Authority (FCA) reporting requirements (DTR 3.1.2 through to DTR 3.1.8), persons discharging managerial responsibilities and their connected persons, must notify the issuer in writing of the occurrence of all transactions conducted on their own account in the shares of the issuer, or derivatives or any other financial instruments relating to those shares within four business days of the day on which the transaction occurred.
Thomson Reuters captures UK Regulatory News Service announcements for director/PDMR dealings on the day of disclosure.
What are the different types of Director's Dealings?
We often get asked about the different types of director's dealings flags on the supplementary stock pages - here's a quick glossary:
"BUY" - an open market purchase of shares "SELL" - an open market sale of shares "TAKE" is acquisition of shares via a placing, rights issue or similar issuance "DRIP" is acquisition of shares via a "Dividend ReInvestment Programme" (commonly known as a DRIP). I.e. taking shares in lieu of a cash dividend. "EX" is exercise of share options