Changing your Subscription
We provide seven different global regions available for subscription at Stockopedia and you can pay in billing periods from monthly, annual, biennial or triennial. Subscribers can upgrade immediately to higher value plans or downgrade at the end of their subscription period as follows:
Upgrading Regions (e.g. from US to international) or Billing Periods
You can upgrade from a single country plan (e.g. UK) to a multi-region plan at any time. If you are moving to a plan with the same billing period (e.g. from annual to annual, or monthly to monthly), your renewal/billing date will remain the same. You will be credited for your remaining annual or monthly term remaining and billed immediately for the higher plan pro-rata minus the credit.
If you are changing your billing period (e.g moving from UK Annual to Europe Biennial) you will be credited for any unused subscription term remaining, but billed immediately for the full period of the higher plan minus the credit. Your renewal date will be reset to today.
Downgrading Regions (e.g from International to UK Edition) or Billing Periods
All downgrades happen at the end of the current billing period unless you are in a trial, in which case the downgrade will take place immediately. Unfortunately we cannot provide refunds to downgrades or cancellations in the middle of a billing period. If you are in a European monthly subscription you can downgrade back to a UK subscription which will take effect at the end of the current month. If you have a European Annual subscription downgrades will occur at the end of your current annual billing period.
How to Upgrade
Upgrading from the Plans page
You can see all our plans on the Stockopedia Pricing Plans page. You can find a range of geographic editions on these pages. Select a plan by clicking the button on the relevant region in the central section, and select a billing period using the panel on the right.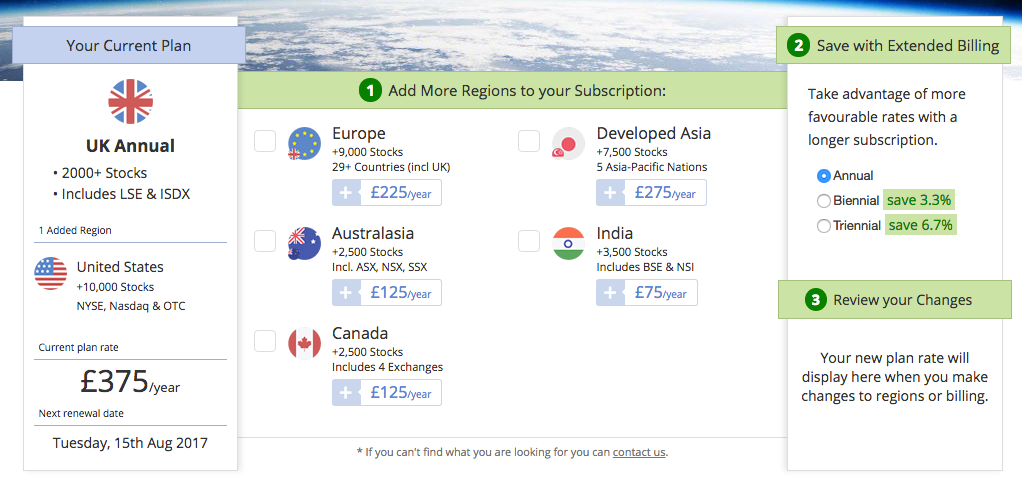 Before you apply the changes you will see a preview invoice. Confirm the invoice and billing will be immediate for all upgrades.
Save on billing by upgrading from your subscription page
You can also extend and save from your 'billing & subscription' page. If you hover over your username in the top right corner of the navigation bar, you'll see 'billing & subscription'.
Hover over the "You" dropdown in the top right corner of the navigation bar.
From the dropdown menu you'll see 'Billing & Subscription' link.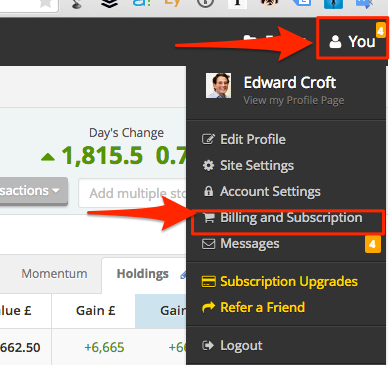 From there, you can switch to a longer dated plan (annual, biennial, triennial) and save up to 50% on the monthly pricing. If you want to, you can always downgrade or upgrade later, effective from the end of your current billing period.

We don't however provide refunds on longer dated plans if you cancel or downgrade through the year. That's why these plan are so much cheaper than the monthly plan. Longer subscriptions help us to invest with more visiblity in the data-set and functionality, hence we strongly encourage them, but if you want the flexibility to cancel during the year, you would need to stay on a Monthly plan.