Referring friends
We recognise that our customers are our best advocates and figure you really ought to be rewarded for spreading the word. We provide subscription discounts for anyone who refers friends.
Every time you refer a friend to Stockopedia that subscribes after their free trial, we'll add a credit of £30 to your account as a thank you for that recommendation. That means, with just a handful of referrals, you could be getting a full annual UK subscription for FREE.
Not only that but, by referring your friends, you will entitle them to a special £50 discount on their own subscription package, so you both save money.
How it works
We track referrals by providing a personalised referral link for you to share. If someone you have referred signs up to the site within a 30 day period and continues on to subscribe, at the end of their 2 week trial they will be billed and your account will be credited. The credit will then be discounted from your next subscription bill.
We want to make it as easy as possible for you to recommend Stockopedia to friends who might be interested. We've set all members up with their own Referral Dashboard accessible from the 'You' dropdown menu.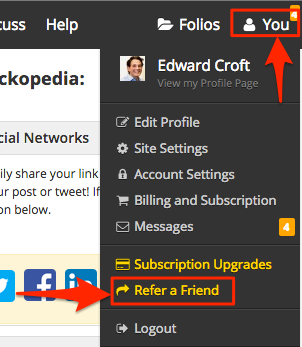 There are now 4 simple ways to invite friends to Stockopedia:
1. Use Your Referral Link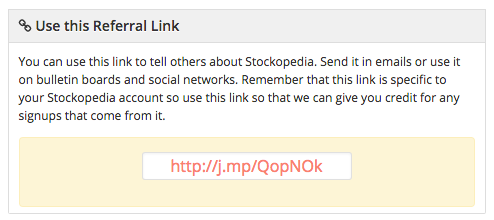 On your referrals dashboard, there's a special shortened Bitly version. You can use either to tell others about Stockopedia. Send it in emails or use it on bulletin boards and social networks. Remember that this link is specific to your Stockopedia account. Use this link so that we can give you credit for any signups that come from it.
2. Invite friends from Social Networks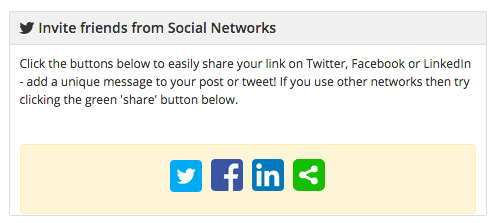 From the Referral Dashboard, you can click the buttons to easily share your link on social media networks like Twitter, Facebook or LinkedIn - add a unique message to your post or tweet but don't forget your unique link. Every one that clicks through and signs up from your tweet will be credited to your account!
3. Invite friends from Webmail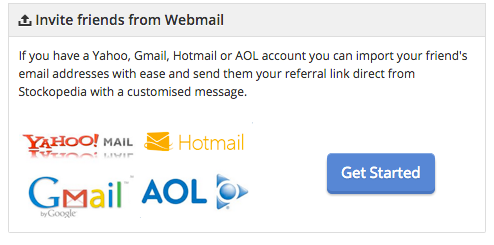 If you have a Yahoo, Gmail, Hotmail or AOL account, you can import your friend's email addresses with ease from the Referral Dashboard and send them your referral link direct from Stockopedia with a customised message.
4. Invite friends by email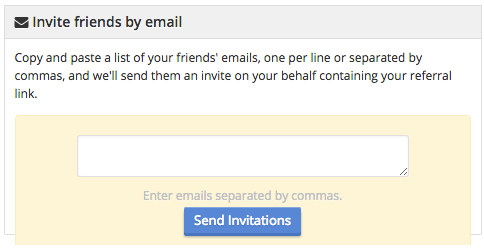 Copy and paste a list of your friends' emails into the form on your Referral Dashboard, one per line or separated by commas, and we'll send them an invite on your behalf containing your referral link.
N.B. Please note that all referral rewards are only available to current paying customers. All rewards received are tracked and will be offset against your next bill, whether annual or monthly. Referrals are credited to accounts as long as new customers sign up within 2 weeks of clicking the link.
Tracking your Credits
The current referral credit is advertised on your personal referrals page. You can track your current friend's referral status from the referrals page and see the credits due to be applied to your next subscription from your Billing & Subscriptions page.
We hope you share our excitement about the developing Stockopedia feature set - if you can think of other people that might enjoy using it, please do let them know and don't forget to use your special link on the Referral Dashboard so that we can reward you for these recommendations too! And feel free to give us any feedback via the Green Support Messenger on the site.